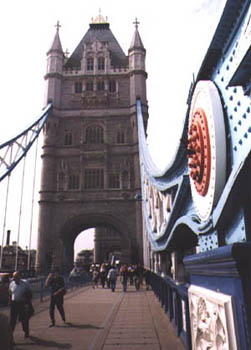 My dear mother decided to bribe me with a free trip to London for a week, where I could be her guide and translator, helping her to relive a past experience, with my brother and sister, many years earlier. Indian food, a boat trip on the Grand Union Canal between Little Venice and Camden Locks, some museums, and feeding squirrels in Kensington Gardens was what she was looking forward to enjoying again, in my company this time. All of it being pretty much my cup of English tea, I approved and went cheerfully along.
A total solar eclipse was also one of the festivities planned. The zone of totality was only at the tip of Cornwall, between Plymouth and Penzance, meaning five hours away on the none-too-fast British Rail system, so we decided to stay in London where a hefty 99% eclipse was programmed by the heavenly engineers. Good enough for us. Especially since all trains to Cornwall were fully booked, roads were jammed, and Plymouth and environs had been overrun with countless tourists, star-gazers, gawks, freaks, neo-druids, retro-hippies, "travelers" and ravers of all types. Even Ken Kesey was putting his "Furthur" bus and Merry Pranksters back on the road for another acid-test trip, starting under the black sun on Eclipse day. In London, we headed for Green Park with our special glasses where, after checking a mini change of the Guard at Buckingham Palace across the street, we found for ourselves the only park bench facing south, which we shared with a back-packing American, half asleep and clueless, who found out only that morning, reading the paper, that there was to be an eclipse! So it was sitting in comfort, London throngs standing or laying about on the wet grass all around us, that we were able to watch the cosmic show upstairs, awed as a semi-darkness overspread the hemisphere! Nice!!
Photo exhibit
"Time Out" had a nice teaser blurb for this hip exhibit by unknown to me young American photographer by the name of FrancescaWoodman. The writer went to great lengths to write an enticing preview of the exhibit, as you might expect after all, this being the purpose of that.
It appears Miss Woodman started snapping at the tender age of thirteen, taking photos described as "strange and enigmatic", photos of herself and "a friend undo(ing) their dresses and show(ing) off their breasts" and "smirking like naughty schoolgirls".
Now, you know me, that got my attention!!
At seventeen, she went to the Rhode Island School of Design in Providence, to presumably further her nascent talents, and where "her exploration continued". There, she remained "the subject of her own pictures" but she twisted things about so as "to be there and not there at the same time. The smug adolescent has disappeared; narcissism has been replaced by a serious investigation of identity -or its absence." Serious profundity indeed!
The article was illustrated by two b/w photos, one of the artist spitting out water (neat effect), looking like P.J. Harvey. The other with three nymphets showing off their nice young bodies in full frontal nudity against a white background, hiding their faces behind 8x10 prints of the photographer's face, for added mystery and, er, artistic effect. Nice enough, but hardly revolutionary!
For some reason I read no further, but made a mental note to try and go check the exhibit if time and chance allowed.
A few days later, having more or less forgotten about it, and with mom in tow in the vicinity of Covent Garden, I found myself … in front of the Photographers' Gallery where our young genius was showing off her stuff. "Lucky me", I thought. I left mom outside and went in.
Nice big space with a few dozen prints hanging on several pillars and walls. Of the thirty or so people gaping in rapt attention, twenty five at least were young women, cool and stylish as London hipsterettes can be!! Telling myself with some difficulty that the charming visitors were not the purpose of the exhibit, I assumed the proper concentration and looked in all due seriousness at the photos on display. And what did I see?
A collection of exceedingly mundane and nondescript photos of adolescent girls in various states of toplessness, taken in drab surroundings, in front of decrepit houses, in sordid empty rooms, as bleak as can be, and with most haphazard exposures. Doubtlessly a fine display of teenage angst, I thought, sure to impress schoolchums and set adolescent girls atrembling and awetting as when their middle finger approaches that danger zone! All cooked up with a presumably expensive camera in an equally pricey high-flying Art School kitchen. Here and there were testimonials from people who knew Francesca, including one from a classmate waxing lyrical about her great talents and the sense of awe felt by the professors encountering another Mozart of the SLR. "She was better than them, and they knew it", raved the mesmerized friend!! If that was the case, and if such "flatitude" can impress academia thusly, I'm sure glad I wasted my time elsewhere, and spent this money I didn't have on dope and debauchery, rather than feeding it into RISDE's cavernous tuition maw!!! But mayhap Francesca had a scholarship!?!
I've always been amazed at the way "experts", "esthetes", "cognoscenti" (and let us not forget the professional "Art Critic") tend to see a universe of complexity and infinities of meanings, all leading conveniently to some revelatory syncretism, in the most commonplace and tediously humdrum artifact or vaguely artsy product. Francesca double-exposes herself with a bedroom wall? Ergo she comments on people's "relations to space", and by "becoming the wall under the wall-paper", she "contrasts the fragility and vulnerability of her own body with the strength of the objects around her". She frames herself or her model near the edge of the print or partly outside? "Fascinated by limits and boundaries", her " work conjures the precarious moment between adolescence and adulthood; between existence and the ultimate disappearance, death". And if it's blurry, it's because it contains "elements of performance", capturing not " a suspended moment" but instead showing us "the elusiveness of time". I bet you didn't know your underexposed and off-centered holiday snapshots could harbor such mystical transcendence!! And if the lab puts way too much grain on your picture of uncle Elmo, you can always call yourself pointillist!!
At any rate, I went on from print to sorry print, disillusioned to no end, when I finally hit jackpot with a biographical text that dotted the i's and nailed the coffin, if I may put it that way! It appears that Francesca, by now 22 and a more or less recognized and published New York artist, had won another scholarship to go to Rome.
So what does she do? The day before her departure, she throws herself out of her window, ending it all there and then, and leaves this sorry suicide note where she blabbers about not wanting the beauty-that-was to turn ugly, and be polluted by the passing of time and its attendant scars and stigma (not her exact words, but my paraphrase!!). So, OK, I'm a heartless bastard, insensitive to a fellow human existential anguish and despondency, for how could I know or understand the gloom pervading her tortured psyche, blah, blah, blah…
And here we have another fucking Kurt Cobain, unable to deal with some form of fame, fortune, and recognition, poor dears, choosing death over the enjoyment of the flush hand they were dealt, when so many others with many times the talent, and none of the gate-keepers approval bestowed upon them, must carry on in anonymity and with a far truer sense of loss and abandonment. I left the exhibit at this point, grumbling and bitching within at the unfairness of it all, but certainly not in the way poor Francesca or her London thurifer's had in mind.
Music
Musically speaking, from a broad historical perspective, and compared with countries like France, Italy, or Germany, England compares very poorly.
I mean, name an English composer of renown and worth from, say, the last three centuries!? Henry Purcell (1659-1695) is one. One!! Sorry, but Georg Friedrich Handel was an Italianate German earning a living in London, and so was Johann Christian Bach. And Nicola Porpora and Giovanni Bononcini were full-fledged Guidos (it's OK, my name is Polizzi, I'm allowed to say that!!) who competed with Handel, won financially and lost musically in XVIIIth century London and its court intrigues. Should I bother with Thomas Arne? Stephen Storace??! And who remembers about them anyway, not youse dudes reading this, I'm sure.
Closer to our ravishing era, the likes of Frank Bridge, Arthur Sullivan (with or without Gilbert), Arnold Bax, William Walton, Ralph Vaughn Williams, and the maudlin and royal ass-kissing Edward Elgar (yes, his second symphony's Larghetto, pathos-laden as it is, is quite emotive, but…) come to mind, and just barely. We'll pass quickly over Percy Grainger (very fine indeed, but Australian!), to arrive at last to the highly depressing strains of the king of gloom and misery, Benjamin Britten himself (if you don't believe me, try his War Requiem, Billy Budd, and Peter Grimes in the same evening, and keep rope, gun, and barbs out of reach!!).
OK, result of all this is one pretty slim and poor musical record (pun!)!!!! One had to wait for the 1960s and the Beatles/Stones/Who/Kinks/Mayall, etc,… era for England to break out of its musical funk (no pun!). And of course, it had to be with styles taken elsewhere, from blues, R&B and Black America in this case…
If you're wondering why I seem to be spewing so much spite and venom at our British friends, let me just say that a week spent in London reading (not listening, mind you, only reading about), and being mercilessly bombarded with, the latest headline news about this and that UK band, as if it were about to change the world, you'd feel the same way: I mean, endless paper and magazine space, advertising billboards, radio and TV time, all wasted on such raving inconsequentiality, musical insignificance, and trifling media hype the likes of Oasis (the departure of one "Bonehead", guitaring type with the dreary combo, getting the media treatment and placement the death of Paul and the resuscitation of John wish they could get….!!), Suede, Blur, Spice Girls, Robbie Williams, Supergrass, … You may whip diarrhea into the frothiest "Chantilly", it's still shit!
So it would appear that thirty five years after putting itself on the (pop) musical map at last, Britain has regressed back to its decades and centuries past of musical irrelevance. Of course, there is today's media savvy to counteract the glaringly missing substance. And the younger generation's (i.e. customers, consumers, sheeps,…) total lack of critical sense and musicological perspective makes it easy on the Temple's merchants, product managers, and A&R types of all stripes to sell their wares.
So, is it hopeless, you ask? Are we back to Mr. Acker Bilk, skiffle, Cliff Richard and Petula Clark???
Well, not quite, for the same thing that has helped the French get on the map lately, is now helping the Brits stay afloat.
I speak of the DJ thang, that funky trip-hop/drum & bass/technoid turbulence that has recently gotten enriched with contributions from the Indo-Bengali musical community. From Talvin Singh to Badmarsh and Shri, Sanj-Sanj to Bi-Polar, Astralasia, the Asian Dub Foundation and Bally Sagoo, East London and points Asian churn and burn with activity, groove mixes and remixes, and a solid ghat and teental flow of "tabla & bass" (yes!). Next time, after I do my homework, I hope to be able to tell you more.
Fortunately, my London week did include a bright musical spot, albeit an American one.
Ovum records did notify me by email before I left Paris that Josh Wink would be spinning at the Velvet Room on Charing Cross Road. I was waiting by the door when he showed up with… King Britt!!! Much embracing and back slapping ensued, and I walked in with them, feeling quite Kingly indeed!
The Velvet Room is a nice little club, with a capacity of about 300, which was reached quickly enough with enthusiastic revelers.
I know some of you don't think of DJs as true, full-fledged musicians, but when talents of Wink and Britt's caliber are in effect, one can't help but be impressed. Working the three turntables and 2 CD players with a virtuosity defying the imagination, the two comperes displayed their awesome skills to a screaming and raving audience, mixing magnificently all the dance styles in existence: garage, jungle, drum & bass, techno, house, deep house, this house, that house, your house, my house, last house on the left,…all there, all brilliant, the Philly pair working in unison, one spinning discs, the other working volume, bass and treble controls, balance, before switching places, back and forth during the night. Much virtuosity, superb musical choices, great fun!!
And I got to meet, all too briefly, the quite blonde and much curvaceous Ms. Cat, friend of a Philly friend of King Britt, who danced up the proverbial storm in front of me for over an hour, only to disappear in the packed crowd, thusly demonstrating for me the "elusiveness of time" with her very own "elements of performance" for a mere "suspended moment" that I wish I'd been able to "capture"!!!