Today, opening day-eve, I'm near the Champs-Elysées, at the Chesterfield Café where all they have left is Bud on tap!! That could be the start of a beautiful nightmare, but thankfully, two hundred Scots in full tartan regalia outside on the Rue La Boëtie, singing the glory of the Highlands so as to exorcize Brazilian equatorial heat in anticipation of tomorrow's Cup opener, take it up to the surreal stage, helping me to forget the
decidedly non-World Cup standard beer status!!
Hostessing babes in Argentina, Forza Italia, or Brazil t-shirts place people and Scots andBrazilians and American tourists, to the juke-boxing strains of Don McLean's "Miss American Pie"!! Last time I was here, in another lifetime, Lee Rocker was groovin' the joint, and today, huge bouncers check all bags for that dread Islamist bomb! Corn flake-fed American youths mouth Buffalo Springfield's "For What It's Worth", as I wonder: "Why am I here?".
Probably to marvel at the sight of more Scotsmen in kilts with Japanese shirts and blue dayglo hair comparing skirt lengths, ogling Danish Valkiries in viking horned-helmets escorting Brazilians in blue-white-red afro wigs, to the Yardbirds telling us it's all "For Your Love"!!
White-trash-with-dog type sits next to me, pretending to be my pal, as the bouncers try to get him out. When the Moody Blues entone "Nights in White satin", I know i'ts time for me to be on MY way!! More babes than the eye can encompass battle for my attention with fat and dumpy 'merican heiffers talking loud and saying nothing, as more scotsmen ease me out of my seat. Off I go!!
Up the street, change of pace, pace quickens.
How many Scotsmen are there in Paris? Obviously they're all in town, thickly kilting it up and down the Champs-Elysées, and I wonder: who's left up in the Highlands, harvesting the blue heather and minding the distilleries?? Brazilians in more weirdly colored wigs woop it up with the Scots and the Morrocans, fraternizing to no end, as I sit at another café where three 'merican bimbos take exception at my Hoy de Monterrey cuban cigar (it's actually lit, and I am in fact smoking it!!!). If some killer hooligans are here, they're nowhere in sight.
The Café George V is packed, and soon enough the american girls are gone, replaced by, you guessed it, yet more Brazilians whooping it up some more with another Scottish crew!!! My $15 pint of Carlsberg arrives, shaken and stirred by the jostling crowds, including a group of Iranians with girls dressed in a way they couldn't back in Teheran! AC Milan fans are telling the Brazilians, in song, why they won't win, as Saudis in green and white robes dance, sing and smile, so happy to be here. Now, it's drizzling on my cigar, as Scots and Brazilian traipse about, waiting for tomorrow's opening match and its revelation. The next day, to while away a few hours before the 5:30 kick off, I return to the Champs Elysées.
Gone are the god-awful giant puppets of the opening night celebration parade, replaced by the usual parade, namely traffic and tour buses.
What hasn't changed nor diminished are the Scottish multitudes: drunken, kilts akimbo, wearing conic cardboard hats, they crawl, they drink, they sing, and then they drink some more. Hundreds of them everywhere! Even in my highly residential neighborhood, they can't be escaped!!! The story on the news is that very few of them have tickets to any of the matches. Or hotel rooms for that matter! They sleep (if they sleep at all!) in cars, in train stations, on the street, and they carouse, sing and drink morning, noon and night!! The fraternization between fans is amazing: after all, football fans, once drunk, are supposed to go for the jugular, hating each other lustily!! "Bovver", the Brits call it! But so far, so good! T-shirts and emblazoned hats are exchanged, and singing bouts are as rambunctious as it gets. Will it last once the balls get rolling? Or after Brits, Dutch and Germans run into one another after several gallons of local brew?? And for several days afterwards, the images on TV were of fans from all countries fraternizing endlessly, the Brazilians and the Africans partying like experts, dancing, singing and drinking with one and all. Love ruled!!
All this good cheer and fine camaraderie lulled everyone into thinking this would be a peaceful football party, with hooligans and their attendant violence left beyond french borders. Rude awakening five days later when the English, team and fans both, enter the scene in Marseilles. A few hundred Brits, without ticket to the match but with plenty fighting spirit, descended upon the southern city and proceeded to riot, pillage and destroy everything in sight. The problem for the Brits is their reputation: for the past twenty-five or so years, English hooligans have held high the undisputed title of Toughest Football Warriors in Europe. And just like the aging Old-West gunslinger who had to take up the challenges of any local upstart who wanted to show he could draw faster, the Brits have to deal with provocation and one-upmanship from local baddies wherever they go. And with memories of Empire in their beer-addled brains, they've held their pennants high, and have taken on every contender coming their way.
| | |
| --- | --- |
| | |
The match that day pitted England and Tunisia, the opener for both, but the action started the day before, when local arab toughs came down from the north-side to have a look at the english monsters. The Brits had been harmless enough up to that point: drinking heavily, and I mean HEAVILY, they'd confined themselves to a few pubs, cafés and the beach, singing songs (No Surrender to the IRA, Rule Britannia, Land of Hope and Glory, God Save the Queen,...) and harmlessly swaggering about. But, for unknown reasons, taunts or provocations, someone was pushed, a punch was thrown, and the battle 'kicked off'.
" England, Stand", "Let's do it for England", they shouted. Overturned cars, windows smashed, police charging with dogs and sticks, local arabs throwing bottles at the Brits above the police ranks separating them, the usual! And the locals ended up proving themselves as nasty as the two hundreds English hard-core yobs at the heart of it. And gaining the tactical upper hand. The Brit style is to charge in massed ranks up and down the boulevard. But once their lines had been broken up by the riot police, they spilled into the darkened side-street and alleyways, and into arab territory, where gangs of local punks awaited them with knives and baseball bats. Cracked skulls, broken ribs, throats slashed, blood and more blood, revenge exacted this way and that, locals cheering their bretren hunting any Brit they could find, countless arrests.... Nasty indeed!! Reuters reported one of the most bizarre event, when a gang of Brits surrounded an organ-grinder and forced a bottle of wine down his monkey's throat!!!
By the time the match started, calm had returned. Not for long, though. The city of Marseilles had set up a large screen on the Prado beach where people could watch the match. When Alan Shearer scored the first goal at the 42nd minute, it sparked a hail of beer and wine bottles to be thrown by the Brits onto the grandstand where many Tunisian were seated . Protecting themselves any way they could, the Tunisians had to jump from the bleachers, as the Brits attacked the temporary structure. Up to that point, the two groups of fans had watched the game peacefully, together, as no attempt had been made to segregate them. Within minutes, riot police in full combat gear, helmets, body armour and bullet-proof vests charged behind a volley of tear gas, proceeding to beat everybody in sight, yet concentrating on the English. The 'bulldog spirit' prevailed, as they were to be the last ones to be driven off the beach.
A few days later, in the northern industrial city of Lens, the Germans arrived, intent on showing the Brits, and the world, who's toughest. The Teutons surprised everybody with an exquisite level of preparation: clean and well-dressed, using cellular phones to coordinate their actions, it showed German organization at its best! After some healthy fighting with a phalanx of riot police, a group found itself behind police lines, near several parked police buses. These were garded by a single Gendarme, sans helmet, and the mob took out its frustrations on him. They kicked him in the face, beat him relentlessly with bats and metal bars, some hitting his head with a stone.... He ended up suffering irreversible brain damage, and laid in a coma for weeks!!!
A german hooligan named Spike (?!) was quoted in the press as saying he had no problem with the fact this policeman was taught a lesson: "Why did he block our way? Why did he not run away? He was serving the system and must accept the consequences!"
A good try by the Germans, but it would appear the English retained their title!!
AVIGNON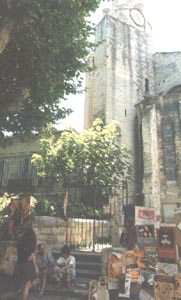 Sitting at the "Café de La République" in Avignon, under a melting sun, I watch multicolored crowds move about in Provençal heat and theatre excitement. The "Avignon Theatre Festival" is in full-swing, offering five hundred plays in three weeks, with many street happenings and mini dramas acted out ever so quickly at the café's terraces and on street corners.
And by the time you realize the couple fighting loudly in public are comedians promoting one of the day's play, PTOOOF, they're gone, replaced by others. The Merry-go-round on the plaza, historic and hysteric, spins endlessly, laden with screaming children, oblivious to both heat and street comedians, lost in their own childish thespian reverie.
Scantily-clad lovelies, sheerly see-through and micro-mini-skirted amble about in the afternoon light, acting out their own reality in the midst of all this theatrical make believe.
This morning at 10:30, I saw Ionesco's "The Bald Opera Singer", a masterpiece of absurdist theatre, and, no doubt, it had to put my head in a receptive mood for the wonders yet to come. Next on the program, is "Shakti", a one-woman dance performance, erotic and oneiric, blending Japanese sense of place with Indian Kama Sutra dances, transposing the result into the heat, not of Rajastan or Mysore, but of Provence and cricket songs.

After a mere half hour in Shakti's Nirvana, I land back on the street with just enough time to crawl across town to a different kind of heat, the heat of Andalucia, the coldly eldritch heat of "Duende", for a flamenco tribute to Federico Garcia Lorca in this, the poet's centenary. In 1930, Garcia Lorca lectured in Cuba on the subject of Duende, and this play was based on that lecture. In a packed theatre, bathed in red light, the poet, in suit and hat, is on stage with a young dancer, a guitarist, a keyboardist and a singer. Quickly I find myself immersed in gypsy Andalucia, under Serge Barbuscia's powerful evocation of Duende. Ah, but what is Duende and how does one find it ? And where?
Duende is the transcendant connection the artist make with the inspiration rising within him. Duende is the understanding the gypsy singer has of the ancestral suffering of Andalucia. Duende is that otherwordly state of comprehension, of profound awareness, of atavistic realization of all things and mysteries. Duende is what burns the soul and blood under a poultice of broken glass. Duende is the demonic earth spirit who, like Prometheus, will show you the essence of all things, essences you are not allowed to see, a vision you may pay for with your soul and sanity. Duende is the soul of the blues singer who has made that blood-pact with the Arch Fiend at the crossroads. Duende is the primordial groove, sublime and inherent in its inconceivable splendour. Duende is the heightened state of being all arts strive to achieve, more often unsuccesfully than not, so elusive is it. The hurt, the loneliness, the obsessional passion, the destruction of self, the dark sun of melancholy, the deathly obsession of the 'cante Jondo', there is the abode of Duende. Duende refuses to show itself if there is consolation. Duende wants to see your wounds. It has this magic virtue to baptise its holder in the darkest waters. Oh! superb triumph of dreams at the edge of the abyss, dreams of the bullfight where a god is adored and sacrificed. The 'toro' has his orbit, and so has the 'torero', and between the two is the extreme peril and the terrible game. Duende is neither muse nor angel. The muse may guide the 'muletta', the angel the 'banderillas', but only duende, when death lurks, will point the sword to the Truth and the Art, and sublimate Man and 'toro'. It is the perpetual baptism of things newly created, it is Medusa's veil in search of new victims, it is Goya and Velasquez at their regal darkest, it is 'Caracol' singing to Santiago y Santa Ana, 'El Agujeta' spewing forth from his mouth the harshest metals ever forged by gypsy smiths to the sound of ancient 'martinetes', it is 'La Niña de los Peines' searing her throat with burning 'Cazalla' in a Cadiz tavern, ever so long ago, to show the unbelivers that she, too, could craddle Duende. And here in Provencal Avignon, Barbuscia and his cohorts found it and laid it in front of our bewildered eyes and aching soul, for us to rejoice and sing and moan, blinded by its darkness, silenced by its silence, verified by its starlight, deafened by the preternatural clangor that accompanies it always. Entranced and possessed, Barbuscia became a conduit for the spirit of Duende, bringing it to this dark and red and mesmerized theatre, caressing it, making love to it, becoming Duende for an hour. I gasped and trembled, I saw the light of Eleusyan Mysteries, I had trangressed the forbidden, and had glimpsed upon the Ancient Gods.
I left the theatre as if from Lethe, oblivious to heat and sun, in the streets of Avignon in body only, mind and soul scouring the spaceways, understanding at last!!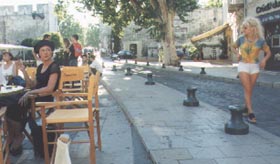 Several days later, the trip's first stage concludes in front of a super cold pint of "Blanche de Bruges" with a lemon slice, at the unscenic but well-placed "Cintra Café" in Avignon.
Well-placed, because a mere stone throw from the railway station where the train to Montpellier awaits me, within Avignon's fortifications (you never know when the Moors are going to attack!), and well within the leafletting purview of more gorgeous sun-dress clad actresses pushing their evening shows. I may be leaving, but the festival goes on for another week.
I didn't stay in Avignon proper, but in the ancient village of Tresques, in my sister's house, built in 1638, the year of Louis XIV's birth; and in the town of Bagnols sur Ceze, already known to Strabon as Balneola, when BC was turning into AD.
Old places full of olden spirits, crackling under the sun
and the crepitating songs of cicadae endlessly calling their mates to burning amours in the parched "garrigues", while humans seek refreshment in glasses of Pastis under the soothing shades of centenarian plane trees.
No baleful spirit here, the kind you might associate with a Rhine Valley Schloß of the Lorelei, or an Hybernian keep high in the Highlands, guardian of Pictish runes and portals opening onto C'thulu, but olden spirits full of charm and glee.
For how could it be otherwise, in this land of smiles and Côtes du Rhone, Chateauneuf du Pape, rosemary, thyme, garlic and onion pies, bouillabaisse and olive paste?!
And let us not forget the private pleasures of sun-tanning, my main occupation when not in Avignon's theatre darkness. Doonesbury's Zeke would be proud of me: perfectly brown and succulent am I, with no tan lines (eh, eh, eh!!), sure to impress South Beach hedonists and the jury at the George Hamilton Sun Tan Open!!
CAPRI
Nearly two years ago, in Pompei, Dr. Zoë and I marvelled at the crass and crude presence of a retinue of Joey Perullo tour boobs, swaggering their provincial ignorance all about these marvels of antiquity. This time around I had a foretaste of things to come on the hydrofoil ferry jetting me over to verdurous Capri's soaring cliffs and pinnacled crags, a short journey taken in the company of a herd of women from Bloomfield, NJ, (figures!!!...) whining and exclaiming in their best nasal twang!! Fat, dumpy and flat-assed, they snapped away with flashes in full sunlight so as to immortalize their sorry presence upon the Mediterranean and its waters of indigo. Here in Capri, it's tourist galore!! In philistine and tacky presence, they preen and parade in the town's small serpentine streets, traipsing in and out of jewelry stores, and Trussardi, Hermes, and Armani boutiques!! What the fuck??!!?? They come to Capri to SHOP!!??!! The mind reels! I quickly head out, anywhere, anyhow, but away from THEM!!
Walking east, up and down narrow lanes between curtains of flowers and blooms, as variegated as they're fragrant, in battle with prickly cacti and languid palms for growing space in the dazzlement of noon, I find myself... quite alone, all of a sudden. Deb and Lenny, Klaus und Inge, Marcel et Martine, all easing their t-shirted blubber in climate-controlled shopping, seemed to have jettisoned all thoughts of trekking the acclivitous hillside up the Via Tiberio to the Villa Jovis, high on the island's easternmost point. "Good", I think, " Roman ancient glory all to myself. The amorous plaint of lyres, a goatherd, and the fugitive vision of satyrs chasing dryads.... If only..."!
And the dozen-or-so people awaiting me there make no difference. They're young and pleasant-looking, and the women have abandonned nearly all cumbrous habiliments in an attempt to find comfort in the stifling heat.
English writer Robert Graves, in his "autobiographical" journal of Emperor Claudius, tells the tale of Tiberius who, wanting to punish the world after his own death by unleashing upon it the destruction and havoc he couldn't bestow upon it whilst he lived, made the insane Caligula his heir. This was to be the direst form of punishment he could think of ("Rome deserves you, Caligula"). Watching the unseemly tourist hordes wash upon Capri, in relentless waves of crass, I find myself entertaining thoughts of mass-destruction, thinking there is something to be said for extermination. All as an aesthetic construct, you understand, since I am not likely to become master of the world, with power of life and death, any time soon. So your sorry asses are safe for the time being.
The next day, blocked in traffic on the Amalfi coast road, the same thoughts entered my mind.
Buses after buses, including a huge Benz "Bustouristik" out of Bomlitz, Deutschland, or some such hole that should have been bombed more in WW2, all stopped on this narrowest of roadway so as to permit their clientele to shop for trinkets and feed themselves at some roadside trough! And everybody else be damned!!!
Thankfully, a repose for my pained eyes in this traffic hell presented itself in the form of a good-looking Milanese couple in a shiny, sporty, red Alfa-Romeo roadster convertible, equally stuck but seemingly unperturbed, as they unknowingly reenacted for me scenes of a long-gone Italian Dolce Vita, enraptured in each other's gaze, high above the splendour of Positano!
Already, I hear some of you exclaiming loudly in puzzlement and dismay.
The warm-hearted liberals: "But these people have rights, too, you know. They may be ugly, fat, loud, ignorant and tacky to no end, ludicrous and an eyesore, they DO have a human soul breathing and yearning within. So you should be tolerant of your brethren's faults, and in the same way you shouldn't judge a book by its cover, do not judge the person by its exterior, however repellant it may be, blah, blah, blah..."
The realists: "Who the fuck do you think you are, asshole??! You're just another one of these tourists, with your camera and your Ray Bans!!! If you hate tourists so much, stay at home!!!"
To the liberals, I say this: the book analogy may work for some books in some cases. But do I really need to know the throbbing prose hiding within the lurid cover of these Harlequin romances (the kind your mom reads with her dildo while your dad is out drinking with his football buddies), to know all I need to know. And, in our tourists' case, when you strip all the outside accoutrements, however sorry or semi-cool they may appear, what are you left with? A Nobel prize litterary genius, a composer writing operas and symphonies inspired by your mind and erotic aura?? Nay, to say truth, it's the same old dull stockbroker or used-car salesman you're mindlessly dating these days! And, here and now, they're polluting the natural marvels that are Capri and the Amalfi coast, making it look like a Labor Day weekend on the Jersey Shore!
To the realists, I say: I may be a tourist in these parts, but I take public transportations, I stay at friends instead of giving business to one of the zillion hotels disfiguring the landscape, I don't take photos of my fat wife, and I look cool in Ray Bans!! And I live in Paris, the number one tourist spot in the world, so were I to stay home year round, I still wouldn't be able to escape THEM!!!
VILLA JOVIS.
Atop Mt. Tiberio sit in antique splendor the remains of Tiberius' villa, wherefrom he ruled the Empire, trying to beguile but a little the gloom and weariness of his declining years, having grown hopeless of all but oblivion, finding solace and a momentary swelling of his flaccid pulses in the spectacle of little boys and girls, frolicking nude in the gardens as if they were wood nymphs, thereby assuaging his gymnosophic seclusion!
In much later times, Christian zealots wanting to establish in yet another place a beacon to their shallow superstition, erected a chapel to some obscure San Fernando, where once Jupiter illumined the thoughts of Augustus, Tiberius, and subsequent Imperators.
Not wanting to leave well enough alone, a huge and ugly bronze statue of the Holy Adultress has been dominating the landscape for the past twenty years! Taking a cue from Leibniz in thinking their world the best of all possible, Christians have continued leaving their deplorable imprints upon all things, and in the fashion of turds, have so far managed to keep rising to the surface!!
Turning my back on the sorry constructions, I ambled back and forth between the ruined cisterns and the slave quarters, the guards' rooms and the Imperial apartments, soon finding myself on an umbral terrace beneath pine trees, hidden from mortal trespass, where Trasillus, the Imperial astrologer, wearing the seer's Utter Black, glimpsed at the star's mysteries. And, having pored over tablets and parchments of archaic cyphers and runes, devised arcane thaumaturgies born of his mantic arts, meant to calm the monarch's fears, and wash away anguished visions of impending doom from these old eyes, filled with the vainglory of madness and bale...
Two hundred meters above the sea, as its waves lap at the cliff's base, I also let my mind drift back to olden times above the surf, when galleys and xebecs, dhows and fellucas from unknown isles and outland horizons beyond the morn', fearlessly plied the turquoise main, returning from shores of camphor and sandalwood, their oars silently cleaving the weltering waters of Mare Nostrum,
their holds filled with the treasures of far kingdoms beyond the bourn of sunrise.
Some distance below the villa is a cliff-top garden of cacti and pines, languourous flowers swaying in the salted sea-balsam breeze, bruiting with the songs of cicadae, offering one a stunning gaze at becalmed coves where numerous yachts lay at anchor, the privileged voluptuaries on board surely lunching on rare viands and frosted drinks, between naked dips in halcyon waters as smooth and green as a silky curtain of jade.
TOSCA
This summer, the Rome Opera has been performing a mass-audience, sumptuous production of Puccini's Tosca, outdoors in the unlikely setting of Rome's Olympic Stadium. Normally home to both roman soccer teams, AS Roma and Lazio, Lucilla, Davide and I sat in the turn where the visiting team's "tifosi" would normally rant and rave. Beautiful staging with impressive rotating sets, three of them (the set changes got applause from the crowd!!), magnificent costumes, nearly two hundred people on the stage for the "Te Deum" that concluded act one, and, last and certainly not least, some fine singing and rousing music... It is of course impossible to properly judge operatic voices in an outdoor amplified performance, but I was thrilled by the lasting power, somber tones and dramatic shades of baritone Ruggiero Raimondi as Barone Scarpia. In his sixties now, he has lost little of the dark velvet of his voice, and his stage presence is as commanding as ever. Tenor Vincenzo La Scola as Cavaradossi started acceptably, a little too controlled maybe, but he improved throughout the performance, not succumbing to facility and getting some fine pathos and sobs out of 'Lucevan le Stelle'. But the revelation had to be soprano Maria Guleghina as Tosca, a magnificent new (somewhat) singer, with a stupendous voice, rich and full in the mid-range, magnificently projected, rising to sharp and crystalline high notes without a trace of metal. She brought to the part an innocence tempered with world-weariness, and a sultry erotic sheen that can make all the difference in this ever so well travelled lyric role. Guleghina has been called 'the new Callas'. Whether she is, or will be, is irrelevant. For her to be the new Guleghina is plenty enough already, and I predict that someday, some young singer will, in turn, be called the 'new Guleghina'. The audience was full of beautiful people, young and hip, a far cry from the blue-haired matrons one encounters at the Met or assorted american operatic abodes. Even the techno strains wafting upon the wind from the outdoor disco a mile away were unable to distract us from Tosca's leap to her Tiber death!
I should thank my friend Davide who turned me on to a uniquely Roman pleasure, the joy of driving through this immortal city on his scooter, a la Nani Moretti, and allowing me thusly to ride through empty August streets, in awe of the many wonders of Antiquity all about, revisiting old dreams on the Piazza Navona where Gian Lorenzo Bernini showed with such stylish flair his contempt for Francesco Borromini, and, last but certainly not least, for introducing me to the beguiling Rosella, Roman Princess if there ever was one, who took me on a memorable adventure through the romantic neighborhood of Campo di' Fiori, and of whom I hope to tell you more in future columns!!!
Ah, Italia... I promised my friends that, next year, I would speak their euphonious language. And, mark my words, I will!!