Here are some music images!!!
More will be added as I find them in the archives!!!
Yours truly and Jorma Kaukonen (with the red hat!),
August 1st 1987, in Deptford, NJ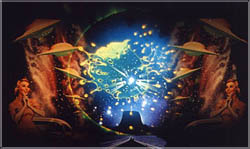 Psychedelic light shows I used to do, with Jorma and others, in the 70s and 80s.
In the early 90s, it was limited to nightclubs, but, hey....!!!
Singing "Hare Krishna" or "Govinda Jai" at Maxim's in Paris,
with The Radha Krishna Temple and Beatle George Harrison.
February 1970.
I'm on the right (with hair), and you know George, of course !
(photo from Paris-Match)
Robert Wyatt in his car, on the way to Louth, Lincolnshire, Summer 1990
Robert Wyatt in a Louth parking lot, summer 1990