A peine sorti d'Indira Gandhi Airport vers les 7h30 du matin, le taxi envoyé par l'hôtel tombe en panne: vapeur et fumée sortent de sombres cavités à coté du siège du passager.
Quoi, moi m'inquiéter?
Mais non, j'ai toute confiance en mon chauffeur du moment! Seulement voila, quand après un bon quart d'heure tout ce qu'il a fait c'est prévenir l'hôtel de la panne avec MON téléphone mobile, je commence à me dire que, peut-être...???!!
Et puis, coup de bol, une autre voiture s'arrête et les questions fusent: en moins d'une minute, Polizzi et sac à dos sont transférés dans la nouvelle voiture et nous arrivons à l'Hotel Relax sans encombres. Le Relax et son quartier n'ont pas changés en deux ans: à cent mètres du Main Bazar de Paharganj, c'est le marché au fruit et légumes qui anime alentour. Un réparateur de cyclo-pousse dans la ruelle attenante et le temple en face complètent le décor.
Bon, il fait TRES chaud et je m'y attendais. Mais c'est seulement ce mardi matin vers midi que je suis tombé sur mon premier thermometre. En plus de la pendule et du cours de change du jour pour euros et dollars, il annonce en beaux chiffres rouges bien précis... 49.8° celsius!!!!
Mon record personel atteint, je me suis alors rué vers le bar climatisé du Metropolis tout proche, pour descendre en rapide succession deux "fresh lime sodas", du jus de citron vert pressé et de l'eau gazeuse, radical et efficace. Mais incapable de faire descendre la température exterieure qui affichait 50.3° quand je suis sorti une heure plus tard!
Et maintenant, en route pour la gare de Old Delhi pour les quatre heures de train non-climatisé vers Ramnagar!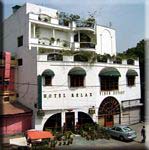 We had barely left Indira Gandhi Airport when the aged taxi sent by my hotel to pick me up, broke down. Ominous steam and smoke rising from under the passenger seat!
What, me worry?
No, I trusted my new friend the driver to do it right and get us all going again. But after 15 minutes, all he'd done was call the hotel with MY cell phone and sit in the shade with his buddy. That's when his brother shows up out of morning airport traffic (the chances of that...???!!!!) with a spanking white TATA car. Questions and answers in Hindi are fired up at a rapid pace, and quickly enough this Polizzi and his bags change car and get to Hotel Relax hardly delayed at all.
The Relax and its neighborhood, Paharganj, haven't changed a bit in two years, and I expected that: 200 yards from Main Bazaar, it's in the middle of a fruit and vegetable market, with a cycle-rickshaw repair shop in the alley to the side, and a nice Ganesh/Shiva/Parvati temple across the street. The Relax still has dozens of statuary, paintings and prints, things hanging from the ceilimgs and walls, and old furniture strewn all over the floor landings and the common areas. It's nice and clean and air-conditioned which is really lovely when temperatures hit 120 F on Tuesday around noon!!!! I realize how hot it really was when I looked at the electronic marque outside a currency exchange shop: it gace the time of day, the rupee rate for the dollar and the euro, and the current temperature at 49.8 degrees Celsius! Quickly I went in the Metropolis air-conditioned bar and downed two fresh lime sodas in quick succession. When I left an hour later, the thermometer marked 50.3, and that's when I knew I had to move north, in this case a 4-hour non-AC train ride out of Old Delhi station to Ramnagar in Uttarkhand!