February 13, 2003
The exceptionally beautiful temple complex at Ranakpur is lost in the Aravali ranges of Rajasthan, some forty miles north of Udaipur in Pali district. I was the only one to get off the bus at Ranakpur that morning.
Having checked in my back-pack, my sneakers and my beedees at the temple "office", then paying the "camera fee", I entered the marvel that is Bhagwan Adinath temple, dedicated to Adinatha, the first Jain tirthankara (teacher).
Built over several decades in the 15th century on a commission by Jain businessman Dharna Sah, it is divided in 29 halls (mandapa) for a total surface of about 3500 m². More than 1400 pillars, all different and distictly carved and sculpted, support 80 or so domes and spires.
The level of intricacy and details in the decorative sculptures and reliefs is extraordinary, making one think of lace work rather than sculpture in stone.
13 février 2003
Le magnifique ensemble de temples Jain de Ranakpur est perdu dans les monts Aravali du Rajasthan, à un soixantaine de kilomètres au nord d'Udaipur. Il n'y avait que moi à descendre de l'autocar à Ranakpur ce matin là!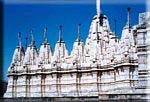 Après avoir laissé mon sac, mes baskets en "cuir" et mes beedees dans le bureau de l'accueil, je penètrais dans le sanctuaire du temple de Bhagwan Adinath, cette sublime merveille architecturale. Le temple est dédié à Adinatha, le premier "tirthankara" (maitre) Jain.
Construit pendant plusieurs decennies au XVème siècle par l'homme d'affaire et politicien Dharna Sah, il étend ses 29 chapelles et mandapas soutenue par plus de 1400 Colonnes sculptées sur près de 1500 m², aucune colonne ne ressemblant à une autre!
On a l'impression d'être dans une construction de dentelle en pierre et marbre blanc, tant les détails des scultures décoratives et des bas-reliefs sont époustouflant de finesse.