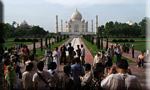 Agra
Descendant de la fraicheur des cimes, la chaleur étouffante des plaines ici à Agra est oppressante. On m'avait prévenu, je le savais, mais c'est quand même un choc !
Le Taj Mahal bien sûr est sublime.
Ma première fois il y a quatre ans, il pleuvait, et le monument était en période de restauration. Aujourd'hui, les échafaudages sont partis, et le marbre blanc resplendit sous un soleil éclatant.
En sortant du Taj, je suis allé sur les bords de la rivière qui le borde, la Jamuna, pour avoir une autre vue du mausolée. Il y a de chaque coté de cette pure merveille musulmane deux petits temples hindous, vieux mais qui ne payent pas de mine.
Celui vers lequel je me dirige a une petite « plage » où est arrimée une barque.
Le brahmine vaque à ses occupations et une douzaine de jeunes musulmans sont assis et regardent la rivière. Arrive un cortège d'autres jeunes, hindous ceux là, poussant un chariot précédé d'un joueur de tambour. Sur le chariot, enveloppé dans un linge orange se trouve... le cadavre d'un grand singe.
Il est entouré de bâtons d'encens, couvert de fleurs, d'offrandes non identifiées, et de pièces de monnaie. Quelques jeunes se déshabillent et portent le singe dans son linceul orange dans la rivière, qui à cet endroit ressemble à un égout, tant d'immondices flottent dans le courant. Mais cela n'arrête pas nos amis qui procèdent à l'inhumation aquatique du singe sous le regard amusé, un peu envieux et assez méprisant des jeunes musulmans.
En quelques secondes, le corps du singe disparait sous les eaux calmes de la Jamuna, et après quelques minutes, les jeunes hindous repartis d'où ils venaient, suivis des jeunes musulmans, la petite plage sur la rivière retrouve son calme. Ilnereste plus qu'un couple de touristes, le brahmine et moi.
Ma chambre à l'hôtel Sheela est au rez de chaussée, avec un ventilo et des fenêtres qui ferment. Dehors, des lézards sont a l'affut autour du petit néon au dessus de la porte et qui attire moult insectes.
"Très bien" je pense "braves petits lézards qui attrapent les sales bêtes avant qu'elles n'entrent chez moi".
Allongé sur le lit, j'ai une fugace impression d'être Humphrey Bogart dans une chambre glauque sous les tropiques: le ventilateur brasse un air que certains décriraient comme
'gluant', une lumière blafarde et fluorescente passe à travers les vitres sales, et les lézards en chasse au dehors courent de ci de la sur le grillage.
Ils font vraiment beaucoup de bruit et je me lève pour éteindre la lumière extérieur qui
attirent les insectes qui attirent les lézards, montrant ainsi ma compréhension intime du monde animal.
Et c'est là que je le vois: un gros lézard au dessus de la porte, A L'INTERIEUR!!!!
Peur atavistique du dragon.
Il est la. Il est entré. Il me guette.
Je comprends que mes jours sont comptés puisque, comme chacun sait, le lézard attend que l'humain s'endorme pour le mordre à la gorge et le vider de son sang!!
Malgré ma certitude que ce C'Thulhu d'Agra n'attend que mon passage sous lui pour me sauter dessus, c'est en tremblant que j'arrive à sortir et que je tombe sur les trois gars de l'hôtel, assis là sur des chaises pour gouter à la nuit capiteuse.
"Help me ! help me !" je leur dis, "il y a un gros lézard dans la chambre, please aidez moi à le faire sortir!!".
Ils me regardent un instant, puis échangent quelques mots et l'un d'eux me dit: " On ne peut rien faire, il est impossible d'attraper un lézard. De plus, c'est un animal très utile puisqu'il mange les moustiques et autres insectes qui piquent. Et je vous promet que jamais aucun lézard ne s'approchera de vous, même pendant votre sommeil".
Je me calme un peu, et commence à voir le ridicule de ma situation.
"Je suis parisien" lui dis-je, croyant éclairer sa lanterne.
Il me regarde et me dit: "Vous faites presque deux mètres de haut et lui à peine vingt centimètres. Comment pouvez-vous avoir peur?"
J'aurais du lui parler des cobras beaucoup plus petit que moi et qui pullulent autour du Taj comme me l'ont dit un soldat et le baba du temple hindou à gauche.
Mais j'ai préféré aller me coucher.
---
Coming down from the cool Himalayan air, the oppressive heat and humidity of the gangetic plains at Agra is quite a shock, even when you knew this was going to happen.

Agra is the Taj Mahal, and as we all know it is beyond sublime and words to that effect, and fully deserving of its recent 'election' as the number one of the Seven Wonders of the World. Yet, it's not the most visited monument in India; that honor belonging to the awesome Qutub Minar in Delhi!
Four years ago, it was raining and restaurations were underway. Today, the scaffolding is gone, and its white marble is resplendent under the blazing sun.
Leaving the Taj by the Eastern Gate, I turn left towards the river flowing behind it, the Yamuna. On both sides of the Taj by the river are two small and ancient Hindu temples that certainly don't look like much when compared with the Muslim wonder they flank. The one on the right where I find myself has a small boat moored on the, er…, beach in front, a well and several young Muslim men watching the great river ease on by, along with a couple tourists and yours truly. Preceded by a chariot and a drummer, a group of young Hindus arrive, chanting, banging on the drum and dancing around the chariot. In the chariot, wrapped in an orange cloth is a large dead monkey. Incense burns around the corpse covered with flowers, coins and assorted offerings. At the water's edge, several young men disrobe, take the monkey in his cerement and wade in the water. The river at this point looks like a sewer with garbage floating everywhere in the murky water. But our young friends on their funereal mission are evidently oblivious to such trivial matters. Presently, monkey and cloth are given to the river where both quickly sink and disappear. In a few minutes, the ceremony is over, the young men wash at the well and dress, all under the bemused and contemptuous gaze of the young Muslims.

My room at Sheela Hotel was nice and on the ground floor with a ceiling fan and doors and windows with screens.
Outside, several lizards congregated by the fluorescent tube above the door, what with all the insects around. "Good lizards" I think, "stopping all the nasty bugs before they enter the room".
Inside as I lay on the bed, I get impressions of Humphrey Bogart in the tropics running through my head: the fan is moving about some hot and sticky air, there is a lugubrious neon glow coming into the room, and lizards are noisily racing up and down the metal screens…
They're so noisy that I get up to turn off the light attracting the insects attracting the lizards, thereby demonstrating my complete control of the arcana of the animal world.
And that's when I see it! A BIG lizard, above the door, INSIDE the room.
Atavistic fear of the dragon. It's here, it's inside, and it's searching for me.
Right away I know I'm doomed for everybody knows lizards wait for humans to fall asleep before they go for the throat to drink your blood. Shaking, I approach the door waiting for the monster to jump on me any second. Miraculously I make it outside where I see the three hotel guys sitting down and relaxing in the sultry air.
"Help me!, Help me!" I say "there's a big lizard in the room, please help me get it out".
They look at me before exchanging a few words, and then one tells me: "We cannot do anything, it's impossible to catch a lizard. Furthermore, it's a useful animal; it eats mosquitoes and other bugs. And I can promise you no lizard will come near you, during your sleep or not".
Slowly, the ridicule of my situation dawns on me as I calm down.
"I'm from Paris" I say in lieu of an explanation. They look at me some more, then the one fellow adds:" You're almost nine feet tall, how can you be afraid of a lizard barely ten inches long?"
I thought of mentioning the cobras that crawl about all around the Taj, as a soldier and a saddhu both told me that afternoon, and how much smaller they are compared to me.
But I sheepishly decided to go to bed instead.